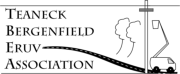 The Teaneck-Bergenfield Area Eruv consists of two connected
Eruvin
. The North
Eruv
is delineated in Blue, and the South
Eruv
in Red.
There are five (5) crossovers between the two sides.
It is
generally not permissible
to carry on any street designated as a border of the
Eruv
. Moreover, Route 4 crossovers must be utilized with care.
One
must
contact his/her Rabbi regarding the utilization of all border streets and all crossovers.
Locate an Address
Have a comment or a suggestion?
Send us an email at
info@tberuv.org
.